Would you like to learn Ancient Greek?
Sign up for AncientGreekCourses!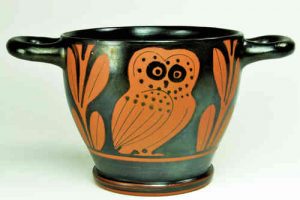 Campus live is an exciting online interactive Ancient Greek course based on live videoconference lessons that follows you step by step, week by week. Campus live allows you to:
follow the online live classes;
ask questions through the live chat;
watch again audio-video recordingof the classes;
interact with other course members through a dedicated forum;
make use of the open access, up-to-date online material (including both grammar and exercises);
take advantage of the personal adviceto get all the clarifications you need and check your progress;
Course Description
The purpose of Campus live is to introduce the students to the knowledge of ancient Greek language, allowing them to get a basic understanding of ancient Greek texts. The classes are partially based on the so-called 'natural system', a learning method which allows you to read original Greek texts from the very beginning with regular support of the grammatical explanation. The course is structured in two parts:
the first part of the course will be devoted to a gradual study of grammar;
the second part will be devoted to the reading of ancient Greek texts.
Course Purposes 
At the end of the course, you will be able to:
Read and write Ancient Greek;
possess basic notions of Ancient Greek grammar;
understand simple Ancient Greek sentences;
be acquainted with the most common Ancient Greek words;
have a true taste of ancient Greek culture through the knowledge of its language and its literature.
Course Requirements
The course is open to all those who want to approach Ancient Greek language and culture. No preliminary knowledge is required!
Calendar and Venue
The course includes 12 weekly lessons of an hour and a half, for a total of 18 hours.
The classes take place in a virtual classroom: the teacher will be always visible (webcam) and will be free to interact at any time through the live chat.
Do you want to receive ancientgreekcourses newsletter to be updated about our courses and news? Sign up to the mailing list!